The "UNLIVED" LIFE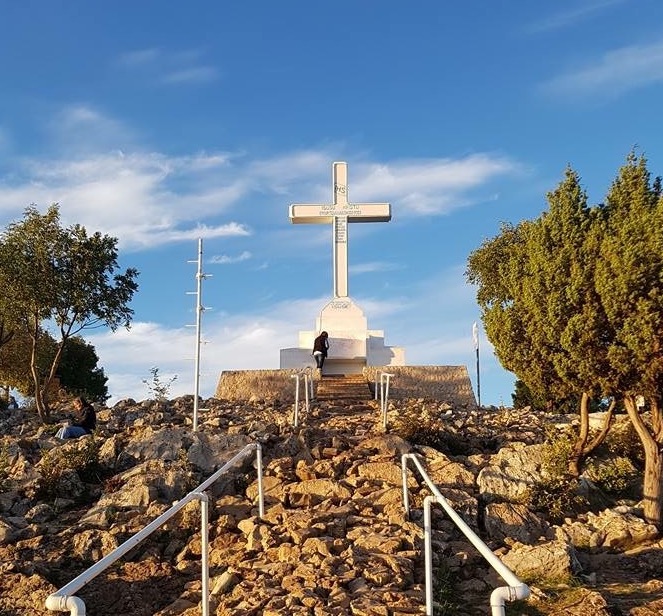 What has God planned for yourlife? Since God loved each one of us into creation, He had a perfect plan for our lives. He envisioned a "definite" life for us that would ultimately bring us to Him in Paradise. His planned life for us offers us opportunities to love Him and to love those around us, refining us to become perfect in Him. Remember: "We are predestined to be conformed to the image of Christ." God's life for us offers us both joys and disappointments as we are given chances to grow spiritually and turn away from our sins.
Sadly, we learn to make our own choices from a young age and most of us never live our complete lives as God composed for us. We trudge from day to day, making decisions for our own future without ever consulting with Him. We often fall into mistake after mistake and then raise our heads to heaven and ask God to help us through one situation or another, frequently ones of our own making.
Yet, have we ever wondered what path God did lay out for us when He created us? Perhaps we havefollowed that path or perhaps we have strayed and God has had to adapt His plan, catching us in different places along the way and pulling us back to Him. Our lives take many twists and turns and before we know it, we are closing in on the end of our journey.
But, what if we were to ask God to lead us in our decisions? How would God's guidance change the trajectory of our lives? We can pray and ask direction about where to live, what jobs we do, who we spend our time with and our romantic choices. Then we can act on God's counsel. Life, even in its daily drudgery, can be filled with wonders when we let God take the reins. The endless "Godincidences" and incredible spiritual tapestry God weaves throughout our lives can offer us a constant source of amazement and joy, knowing a greater power is in control, always working for our spiritual good. We can live our Heaven while on Earth, filled with joy as we go about our days.
Many of you will be thinking I am reaching my twilight years now (or I am already in them). Isn't it a bit late for reflecting on how to live the life God intended for me? Well, one of the most perfect attributes of Christ is His timing. It is always perfect and we can meet Him at any stage of our life and begin living the spiritually perfect life He has planned for us. We do not have to be a child or a young adult. God is always waiting for us. Begin today! Pray and ask for his guidance today! Grab every spiritual opportunity placed before you and make choices based on your faith and your faith alone. Surrender all of your daily decisions to God. Invite God into your life and ask Him to show you His way. The gentle nudging of the Holy Spirit will guide you. We must remember, however, Life with Christ is not about attaining "a perfect life" as the world sees it, but a "perfect holy life" as God sees it, with all its crosses and its pleasures, flawlessly balanced to aid us on our spiritual journey.
Do not be afraid to consult with Christ over the tiniest of decisions. His way is always the best way even if it does not appear to be so at the time. We must strive to live our lives in Christ because there will be no greater regret than to reach the end of our journey and discover we lived the "unlived" life - the one without any composition from Christ. It will be as if we never lived at all.
WALKING IN THE FOOTSTEPS OF JESUS!
What an incredible opportunity it was for us to join 206 Tours on pilgrimage to the Holy Land, with well-known actor, Jim Caviezel and spiritual director, Fr. Donald Calloway.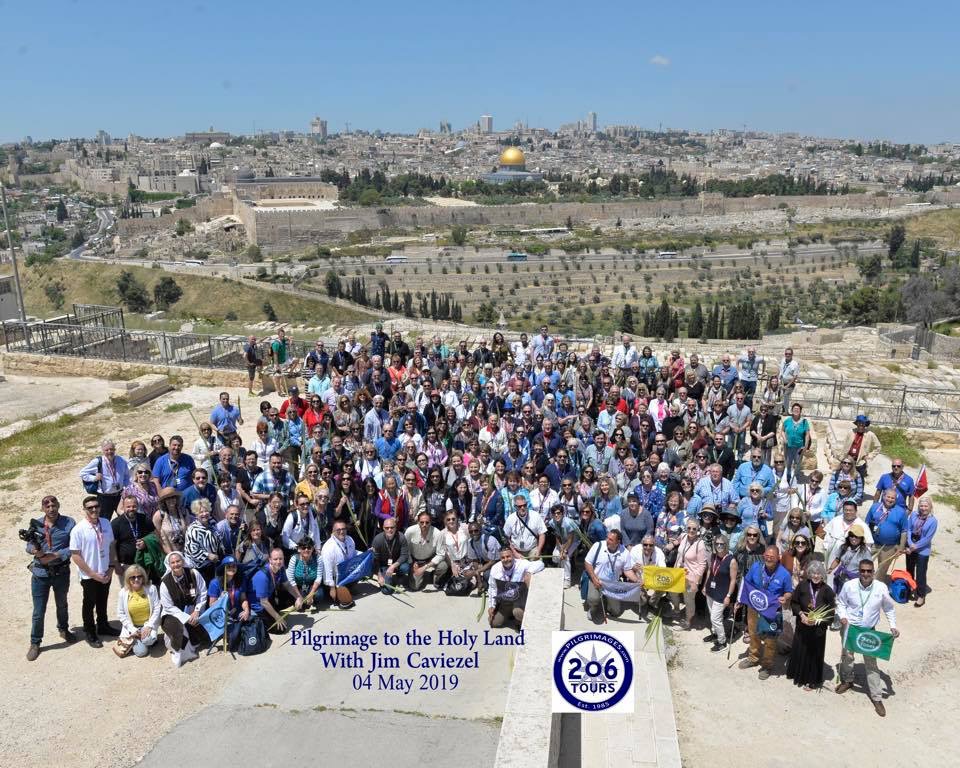 Full of excitement, we each set off to Tel Aviv, heading across the oceans on various flights to our final destination, the David Citadel Hotel in Jerusalem. I had never visited the Holy Land before and had no expectations of what the week would be like, other than the fact we would be very well cared for by 206 Tours.
After long and exhausting travel, we arrived at Ben Gurion Airport to be welcomed by our guides and several 206 Tours buses, stamped with '206 Tours Holy Land with Jim Caviezel' across the side. We had reached the last leg of our long journey! After an hour of navigating Israel's rush hour traffic, we arrived into the bustling narrow streets of Jerusalem and to our hotel.
Greeted by Milanka Lachman, President of 206 Tours, we had a few minutes to meet our fellow pilgrims and freshen up before heading to the beautiful Notre Dame Pontifical Institute for Holy Mass. Archbishop Pizzaballa, Latin Patriarch of Jerusalem was our main celebrant and our spiritual directors concelebrated. Our pilgrimage had begun!
After mass, we returned to our hotel for an incredible dinner. I had never seen such a wide selection of fresh food at one meal. We were in for a gastronomical treat on this trip. And then it was time for bed; as tired as I was, I didn't sleep and lay there with my mind excitedly anticipating the next day.
Day One: The Kidron Valley, Mount Zion and Ein Karem
Today came with an early morning wake-up call, breakfast (another feast) and then we all headed to our designated bus. Weible Columns was on the black bus, with a few wonderful pilgrims. We had Rami as our guide and Fr. Patrick Keane as our spiritual director. We headed to the Garden of Gethsemane in the Kidron Valley. This was one of the sites that touched me the most. A deep emotion of guilt and sorrow embraced me in this garden and I just kept repeating, "Jesus, I am sorry". I was standing in the very garden where Jesus had prayed the night before He was crucified. As I imagined His torment and agony, it was almost too much to bear.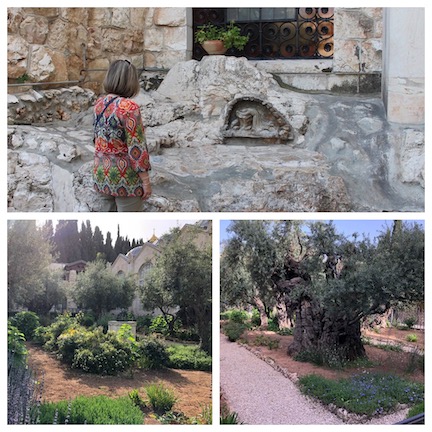 The Garden of Gethsemane
After a short time in the garden, we headed into the Church of All Nations. The church is run by the Franciscans and located on the Rock of Agony where Jesus prayed in Gethsemane. Fr. Donald Calloway celebrated mass, highlighting that in this very spot, 2000 years ago ... Jesus was about to enter into his passion and he falls on his knees on this stone and says,
"… let this cup pass from me…" (Mathew 26:39).
Fr. Calloway went on to say, "...during His torment, He was thinking about us. Do we know how loved we are?"
What an incredible sermon to begin the pilgrimage. After mass we each had the opportunity to venerate the Rock of Agony in front of the altar.
Our next destination was Mount Zion to the Church of St. Peter in Gallicantu (cockcrow in Latin), where Peter denied Jesus three times. Located underneath the church is the "Pit" in the dungeon at Caiaphas' house, where it is believed Jesus was kept overnight after His arrest. It was cold, dark and well below ground which must have been utterly terrifying for those lowered into it as a prisoner.
The afternoon brought a lighter mood as we traveled to the Franciscan-run, Church of the Visitation in Ein Karem. This two-tiered church is striking. Perched high on a hill, with an amazing vista; architecturally, this church was one of my favorite churches from our visit to the Holy Land. The mosaic on the façade of the church depicts the Virgin Mary's visit to her cousin, Elizabeth. Opposite the church, ceramic plaques reproduce Mary's canticle of praise: the Magnificat (Luke 1: 46-55) in some 50 languages.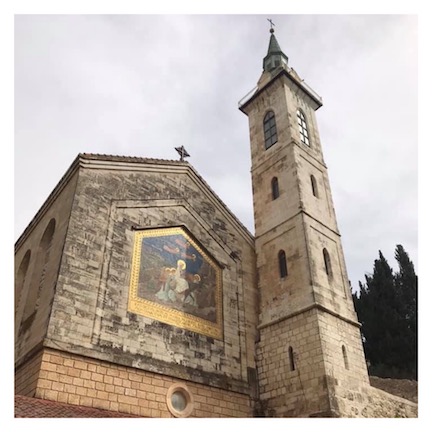 Church of the Visitation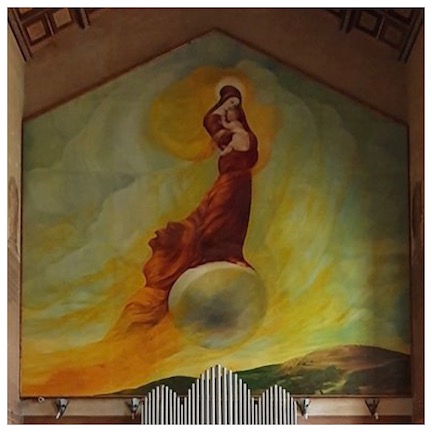 Madonna and Child fresco in the upper level of the Church of the Visitation, which Wayne used on the front cover of his book, Medjugorje the Last Apparition.
When I entered the upper level of the church, I gasped! There before me, on the back wall, was the beautiful fresco Wayne fell in love with when he visited the Holy Land several years ago. He took a number of photographs of the fresco and when he returned home, he had a friend paint an image from his photographs so he could use it for the front cover of his book Medjugorje the Last Apparition. Wayne could not remember which church the fresco was in and as soon as I saw it, I laughed thinking of course it would be here! Wayne's favorite mystery of the rosary was, 'The Visitation of Mary to her cousin, Elizabeth'. With mixed feelings of joy having found 'Wayne's' fresco and sadness that I could not share my excitement with him, I walked back to the bus.
Our last scheduled stop of the day would be the Israel Museum's Shrine of the Book Complex containing the Dead Sea scrolls and the Model of Jerusalem in the Second Temple Period. The model of Jerusalem measuring 107,000 square feet, recreates the city of Jerusalem in 66 AD. Rami used the model as a teaching tool to explain much of the geography and history of the area. After touring the exhibitions, we returned to the hotel, hungry and weary but exhilarated. Another incredible dinner was prepared for us; we very much enjoyed it along with great fellowship with the pilgrims.
Day Two: Nazareth and Mount Tabor
The next morning greeted us with another early start. We traveled north to visit Nazareth and the Basilica of the Annunciation run by the Franciscans. The Basilica is built over the house of Mary where the angel Gabrielle appeared to Mary and announced,
"... Do not be afraid, Mary, for you have found favor with God. Behold, you will conceive in your womb and bear a son, and you shall name him Jesus."(Luke 1: 30-32)
And here the word became flesh, right here in this church!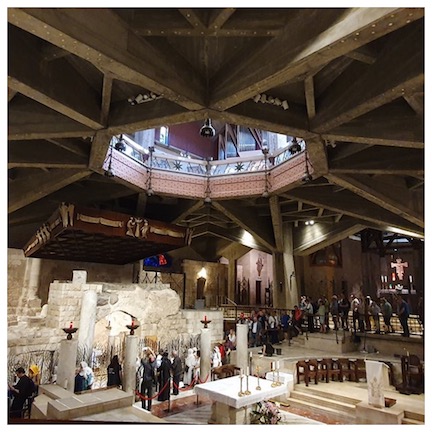 The Basilica of the Annunciation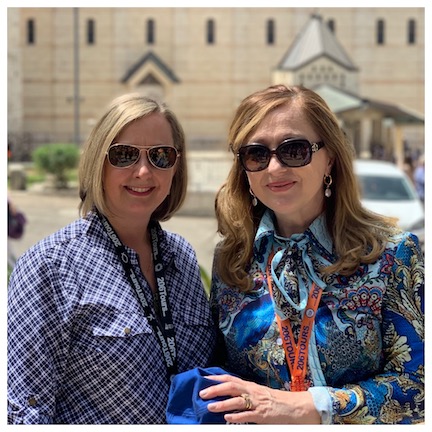 (Left to right) Judith and Milanka in Nazareth
Nearby the Church of the Annunciation and on the same grounds, is the Church of St. Joseph. This small church is built over the home and workshop of St. Joseph, who lived in this house when he was engaged to Mary. After Joseph moved in with Mary, he kept his home, using it as his workshop. We were blessed to visit this site on the Feast of St. Joseph the Worker; God is so good!
From Nazareth, we traveled to Mount Tabor for Holy Mass at the Church of the Transfiguration, also run by the Franciscans. Due to all the narrow switchback curves on the road up the mountain, we unloaded from our buses and transferred into mini vans to venture up to this remarkable place. One only has to visit this incredible mountaintop to understand why Jesus chose this location for His Transfiguration. The view in all directions was breathtaking! How awe-inspiring it must have been for the disciples, Peter, James and John to see Jesus along with Moses and Elijah upon this amazing spot.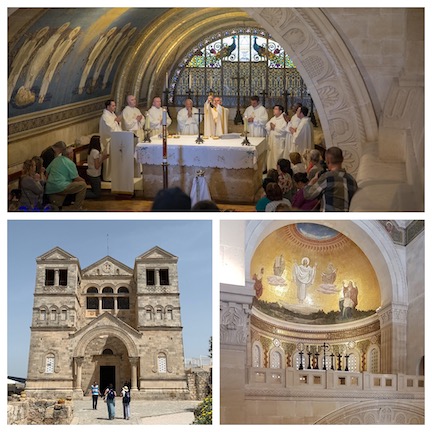 Church of the Transfiguration on Mount Tabor
Fr. Peter Dugandzic was our main celebrant today for Holy Mass. Each day our cantor, Catherine Laidler-Lau would sing at the mass and John Michael Talbot would play his guitar and sing after Holy Communion. Their talent greatly enhanced our pilgrimage. This mass, for me, was the most peaceful, intimate and grace-filled mass we celebrated.
One cannot continue to write about the exquisite churches of the Holy Land without mentioning Italian architect, Antonio Barluzzi (1884-1960) who became known as the "Architect of the Holy Land". He designed most, if not all of the churches we visited and his works are profoundly beautiful. A memorial plaque dedicated to him is mounted in the Church of the Transfiguration.
From Mount Tabor, we took a different route back to Jerusalem, traveling through the West Bank and hugging the Jordanian border. The terrain changed into dry mountainous desert land. We even saw some camps of Bedouins with camels and goats among the hills. I felt as if I was a million miles away from home.
Back at the hotel, the evening brought the exciting arrival of Jim Caviezel. He greeted the group with a few chosen words and we all looked forward to hearing more from him in the following few days.
Day Three: Sea of Galilee, Capernaum and so much more!
Today we prepared for our journey to Galilee, a day we were looking forward to with great anticipation. We boarded our buses, which were becoming our familiar home-away-from-home each day, and headed north once again. Galilee is a beautiful, fertile beach destination with flowers and trees everywhere. We saw lots of people enjoying a vacation on the beach with tents pitched along the way.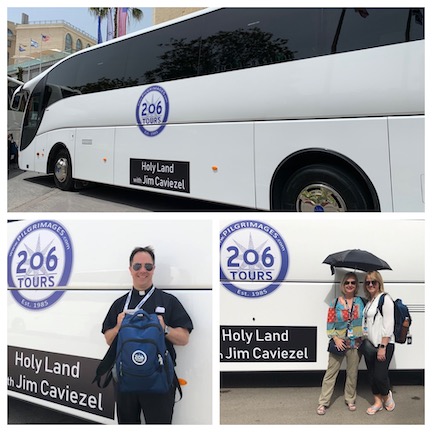 Our black bus!
We disembarked our buses, boarded two boats and motored onto the Sea of Galilee. As the two boats came together, a third boat joined us carrying Jim Caviezel, our priests and John Michael Talbot. The boats were tied together with the third boat in the middle. Fr. Calloway took the microphone, gave a short talk and read the gospel reading, Matthew 14: 25-33
"During the fourth watch of the night, he came toward them, walking on the sea. When the disciples saw him walking on the sea they were terrified. "It is a ghost," they said, and they cried out in fear. At once [Jesus] spoke to them, "Take courage, it is I; do not be afraid." Peter said to him in reply, "Lord, if it is you, command me to come to you on the water." He said, "Come." Peter got out of the boat and began to walk on the water toward Jesus. But when he saw how [strong] the wind was he became frightened; and, beginning to sink, he cried out, "Lord, save me!" Immediately Jesus stretched out his hand and caught him, and said to him, "O you of little faith, why did you doubt?" After they got into the boat, the wind died down. Those who were in the boat did him homage, saying, "Truly, you are the Son of God."
John Michael Talbot then played music and sang. Being on the Sea of Galilee where so much of Jesus' life had taken place and sharing this experience with priests, friends and pilgrims was overwhelming.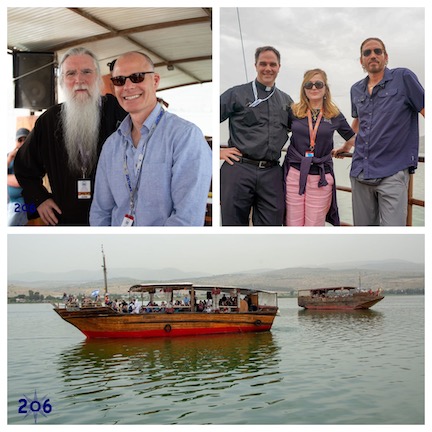 On the Sea of Galilee with (left to right) John Michael Talbot, Matthew Leonard, Fr. Donald Calloway, Milanka Lachman and Jim Caviezel
We continued our day with a stop at the Mount of the Beatitudes where Jesus delivered the Sermon on the Mount. We sat in a small outdoor auditorium in the grounds of the Church of the Beatitudes, which was filled with a beautiful manicured garden. Matthew Leonard gave a short talk followed by a prayer. We then entered the small church and found Jesus exposed in the Blessed Sacrament. What a perfect time to offer thanksgiving for our pilgrimage!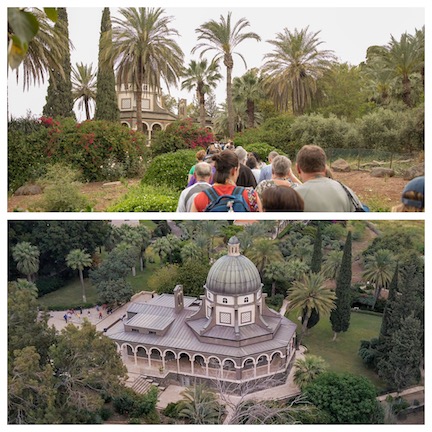 Church of the Beatitudes
Next we visited the Church of the Primacy of Saint Peter, located on the edge of the Sea of Galilee. This place was the site where Jesus reinstates Peter as chief among the Apostles. Everyone got the opportunity to paddle in the water. Afterwards, we moved on to Capernaum.
Capernaum is an archaeological site surrounding the Franciscan-run, St. Peter's Church, which is built over the ruins of what is thought to be St. Peter's home. The location is widely considered to be "the first church". After Holy Mass in St. Peters' with Fr. John Amsberry as our main celebrant, we returned to the hotel. It had been a long day!
Dinner this evening was a la Carte style dining, in contrast to our previous meals, which had been buffet style. Jim Caviezel was scheduled to speak during dinner so there was a tinge of excitement running through the air as everyone waited in anticipation. The talk was planned to be a question and answer session with international speaker, Matthew Leonard who did a superb job of creating a light and relaxing atmosphere. Jim openly spoke about his role as Jesus in the Passion of the Christ and then he spoke about Medjugorje. He has visited the Marian site many times and he spoke for at least 20 minutes on the subject. I was floating on a cloud of joy to hear about Medjugorje. Since Wayne passed away, I hadn't heard a speaker talk about Medjugorje, which had made me quite sad and nostalgic over the months. It was wonderful to listen to another good, catholic man on fire for Our Lady of Medjugorje.
Jim then closed telling us about the new sequel to the Passion of the Christ, appropriately titled, The Resurrection. After a standing ovation, he left the room and pilgrims began asking me about Medjugorje and about Wayne. I eventually made it up to my room and went to bed. However, my excitement from the evening left me unable to sleep as my mind raced. I had come all the way to the Holy Land to hear a talk about Medjugorje. God does have a sense of humor!
Day Four: Bethlehem
Another early start and we were off to Bethlehem. It was just a short distance south of Jerusalem, into the West Bank. We started our time in Bethlehem with Holy Mass at the Franciscan, Church of Saint Catherine, which is located adjacent to the Church of the Nativity. Fr. Sean Magaldo celebrated Holy Mass.
After mass, we walked through a side entry, which led into the Orthodox Church of the Nativity. Icons adorn every corner of the church, especially the altar. The grotto, widely believed to be the birthplace of Jesus, lies below the altar. The Roman Catholic Church, the Greek Orthodox Church and several other Orthodox Churches share this holy place.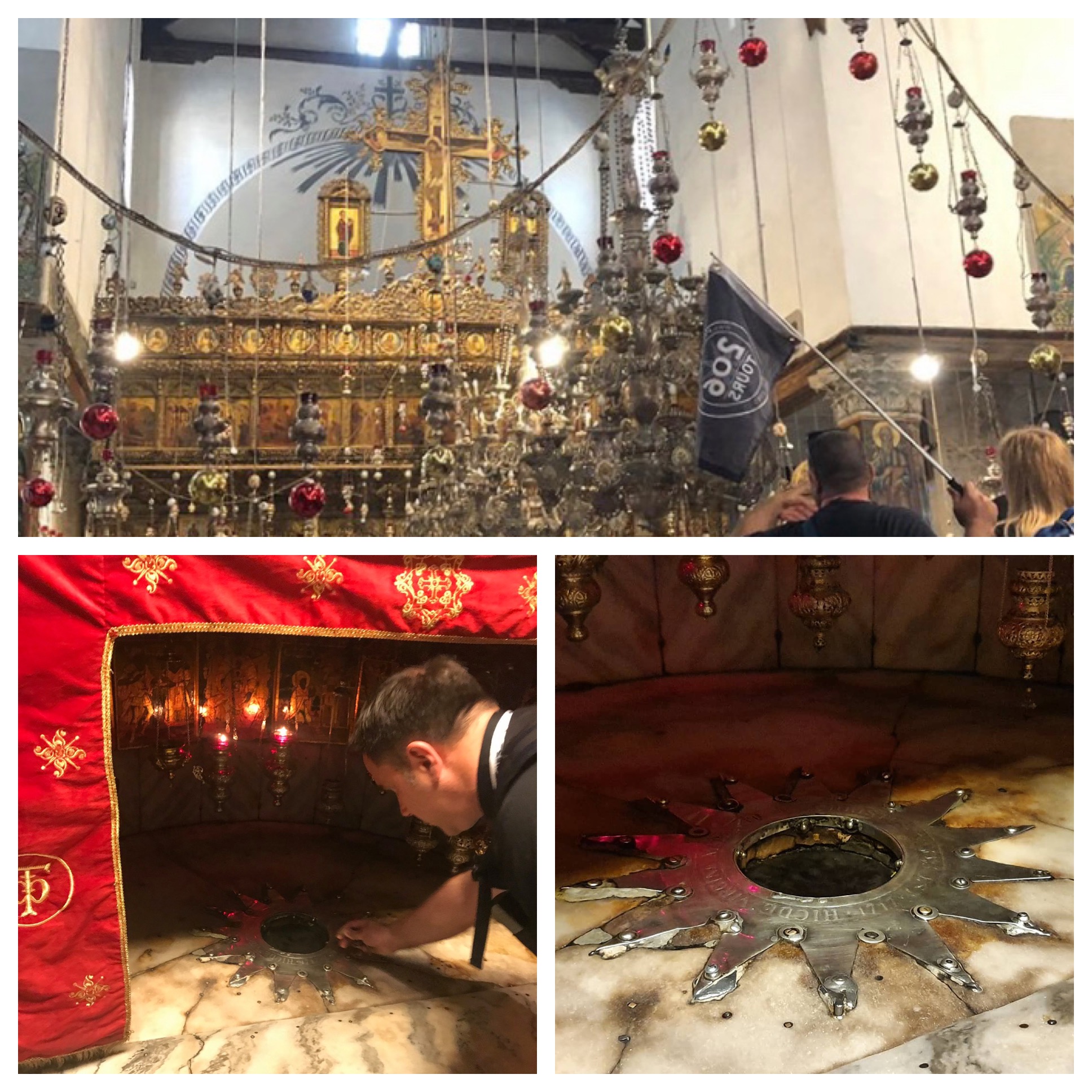 Bethlehem, the star marking the birthplace of Christ
It was chaotic inside, as thousands of people lined up to enter the grotto. Our 206 Tours group was able to go straight down into the grotto without the wait and venerate the star marking the birthplace of Christ. I couldn't help sensing that since the beginning of time, God knew that on this day I would come here and touch this very spot. It was a very comforting thought to know that God loves us and knows everything about us all the time.
We left the Church of the Nativity and visited Shepherd's Field, which was located on a hillside, less than ten minutes away. This field is where an angel appeared to the shepherds and said to them,
"..."Do not be afraid; for behold, I proclaim to you good news of great joy that will be for all the people. For today in the city of David a savior has been born for you who is Messiah and Lord..."" (Luke 2 10:12)
Jim Caviezel was waiting for us at Shepherd's Field and there was a local boy close by who had a lamb. The boy was waiting for tourists to take a photograph of him with his lamb and give him money. Jim picked up the lamb and put it over his shoulders. Actor 'Jesus' with a lamb on his shoulders was a beautiful way for us to reflect on the many gospels where Jesus spoke of himself being the good shepherd and of us being His sheep.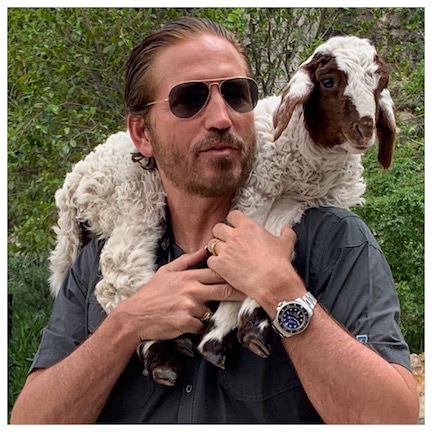 Jim Caviezel holding a lamb in Shepherd's Field
"I am the good Shepherd, and I know my own, and my own know me..." (John 10: 14) and "... Simon, son of John, do you love me more than these?" He said to him, "Yes, Lord, you know that I love you." He said to him, "Feed my lambs..." (John 21: 15)
Next we visited some local Christian craft stores located in one large shop. Beautiful hand made olive wood statues adorned the back of the store and incredible icons were across another wall. The inside of the shop was filled with religious jewelry and smaller gifts such as crosses and rosaries. We made various purchases to take home to our family and friends and then left to return to our hotel.
This evening we enjoyed a talk from Msgr. Hilary Franco. He shared his lifelong reflections of being a friend of St. John Paul II, St Teresa of Calcutta, assistant and friend to Archbishop Fulton Sheen and of meeting and serving at Holy Mass with Padre Pio. Msgr. Franco worked in the Vatican for 26 years and continues to work in the Permanent Observer of the Holy See to the United Nations. What a powerful and incredible life he has led, his recollections were remarkable!
Day Five: Via Dolorosa and the Church of the Holy Sepulchre
This day was the highlight of the pilgrimage for most of us! Our wake-up call was set for 3:30am and we left the hotel at 4:00am. We drove to Old Jerusalem to walk the Stations of the Cross on the Via Dolorosa (Latin for "painful way"). There was a chill in the air at this early morning hour and the dimly lit streets were empty. Together all 240 pilgrims plus Jim Caviezel, led by our priests and guides, made our way quietly through the old and narrow alleys towards our starting point. Prior to that moment, the guide from each bus had an individual speaker and we each had a headset with an earpiece to listen to our guide. Now we all switched over to one channel so we, as an entire group, could share the prayer of the Stations of the Cross together.
The Via Dolorosa is the processional route that weaves its way through the ancient streets of Old Jerusalem. The current route has been established since the 18th century, replacing various earlier versions. The route is marked by nine stations, with the remaining five stations being inside the Church of the Holy Sepulchre. The original route started on the Mount of Olives, which was then changed to Caiaphus House and now begins at the Umariya Elementary School, adjacent to the Convent of the Sisters of Zion. Underneath the buildings of the school are the remains of Antonia Fortress, the place believed to be where Jesus' trial took place.
As a group we finished praying the Stations of the Cross in the courtyard outside the Holy Sepulchre. Then we entered the church for a time of private prayer and exploration. The Church of the Holy Sepulchre primarily houses the place of Jesus' crucifixion and burial. However, the church also contains many chapels and relics of theological importance. For Christians, it is the most sacred place on earth.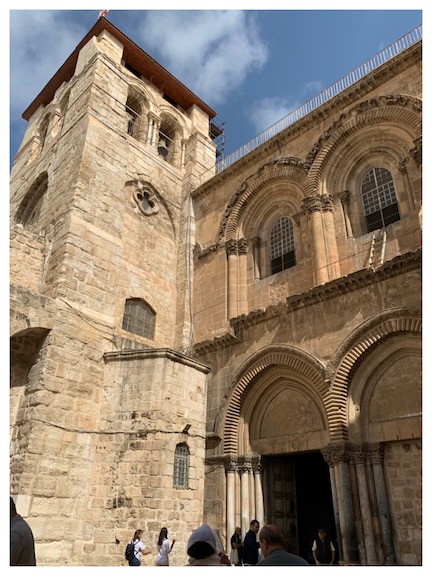 Church of the Holy Sepulchre
Once inside the church, Calvary is immediately on the right. It is a set of eighteen stone steps leading up to the peak of Golgotha where Christ was crucified. We each had the opportunity to venerate and touch the exact spot where the base of the Cross was placed into the rock of Golgotha. There are no words to convey the magnitude of this experience.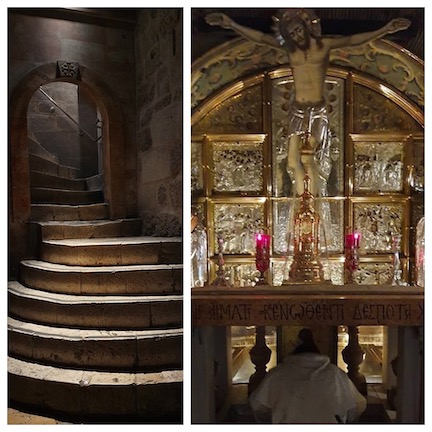 The stairs of Calvary and the place where Jesus was crucified on Golgotha
Descending the steps into the main church area, there is a stone slab, known as the Stone of Unction (anointing). This was the slab onto which the dead body of Christ, having been taken down from the Cross, was laid to be embalmed and wrapped in the linen shroud before being placed in the tomb. I was drawn to this slab, kneeling down in prayer and touching it. I placed my rosary beads and brown scapular onto it, wanting to bring its holiness home with me. As I knelt there, I thought of Mary holding her dead Son in the Pietà and how much pain she must have felt, lovingly holding and caressing Him.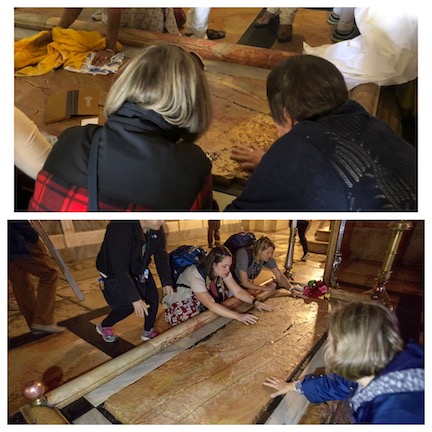 The slab on which Jesus was laid after being taken down from the cross
We then gathered at the tomb of Jesus for Holy Mass. Fr. Patrick Keane was our main celebrant today. We sat on benches surrounding the tomb as we could not all fit inside the tomb. Fr. Pat said most of the mass outside the tomb so we could see and hear him but for the consecration, he entered the tomb. How incredible it was to receive Holy Communion consecrated inside the tomb of Jesus!
After Holy Mass, we each entered the tomb and spent a short time in veneration. I don't think one ever properly prepares for a moment like this. Inside the tomb, I whispered a quick prayer of thanksgiving to Jesus. When I exited, it dawned on me what an incredible grace I had received to be inside the tomb of Jesus. It was almost too much for me to comprehend at the time. Now I look back and wish I had taken more time to spiritually prepare myself. My entire experience in the Holy Sepulchre had a profound effect on me and I have a deep desire to return to the Holy Land and spend more time praying inside its holy walls.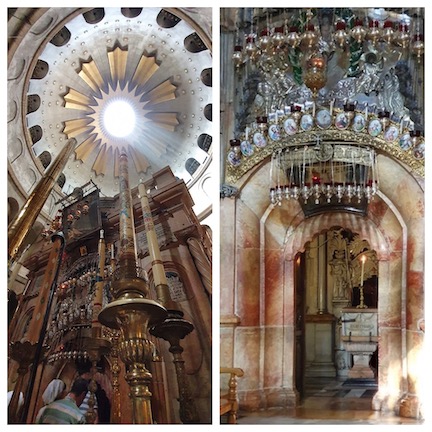 The tomb of Jesus
We returned to the hotel for breakfast. Unlike all the other meals we had shared together, this one was markedly solemn without the usual loud chatter and laughter we were used to hearing. I could sense the pilgrims reflecting on their own unique experiences from the morning.
We were soon back on our buses on our way to the Mount of Olives to walk in procession down the hill waving olive branches in remembrance of Jesus' triumphant entry into Jerusalem. We sang as we marched down the steps and were all smiles and joy again!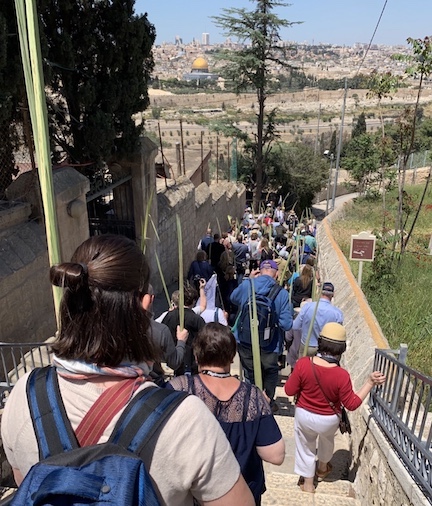 Procession waving olive branches in remembrance of Jesus
When we reached a large clearing halfway down the mountain, we met up with Jim Caviezel and had a great time taking group photographs. Our guide used the amazing backdrop of the Old City of Jerusalem to explain the history and theology of the area. Our guides were incredible! I don't know how they remember so much information. They are experts in theology, history, geography, archaeology and of course, logistics. What a blessing to have them with us on this pilgrimage!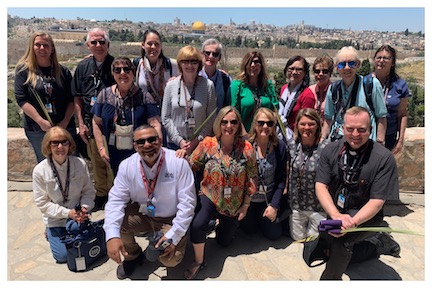 Our Weible Columns group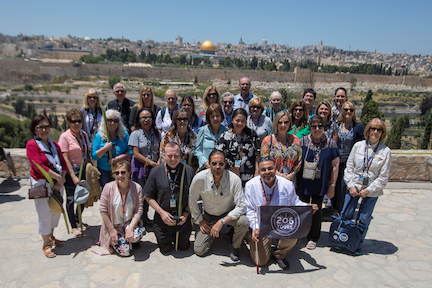 Jim Caviezel and our group from the black bus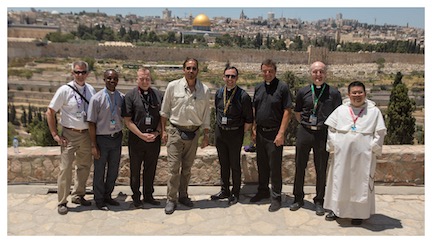 (Left to right) Fr. Peter Dugandzic, Fr. Philip Paul Tah, Fr. Patrick Keane, Jim Caviezel, Fr. Seam Magaldi, Fr. John Amsberry, Fr. Przemyslaw Nowak and Fr. Lawrence Lew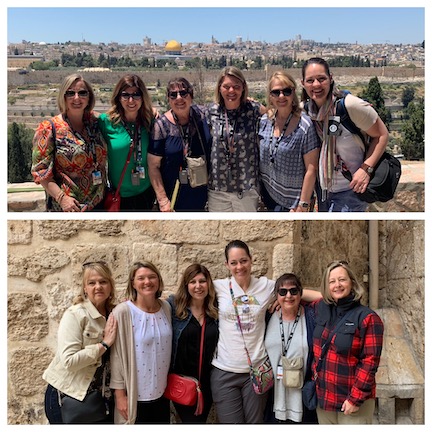 My group of friends!
We returned to the hotel for few hours rest after such an early morning. Then it was time for dinner followed by another talk by Jim Caviezel. After a wonderful evening, tired and sleep deprived we went to bed for a good night's sleep before tomorrow's adventure.
Day Six: Bethesda, the Wailing Wall and the Dead Sea
What a surprise I received today when we arrived at the Pool of Bethesda and the Church of Saint Anne. Bethesda was beautiful; filled with wild flowers, mostly red poppies and surrounded by a perfectly manicured garden full of color. It was glorious! Bethesda was extremely peaceful and one of my favorite places we visited; I could have stayed there all day.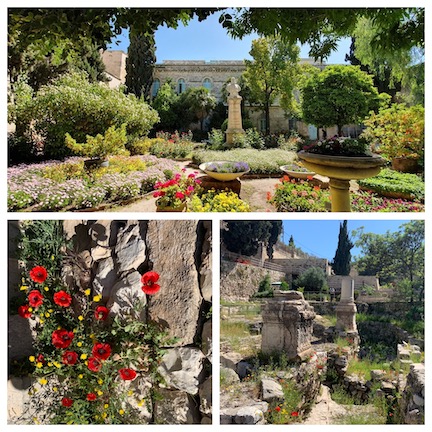 Beautiful Bethesda!
This site is where Jesus healed on the Sabbath, in John 5 1-11:
"After this, there was a feast of the Jews, and Jesus went up to Jerusalem. Now there is in Jerusalem at the Sheep [Gate] a pool called in Hebrew Bethesda, with five porticoes. In these lay a large number of ill, blind, lame, and crippled. One man was there who had been ill for thirty-eight years. When Jesus saw him lying there and knew that he had been ill for a long time, he said to him, "Do you want to be well?" The sick man answered him, "Sir, I have no one to put me into the pool when the water is stirred up; while I am on my way, someone else gets down there before me." Jesus said to him, "Rise, take up your mat, and walk. "Immediately the man became well, took up his mat, and walked."
The Church of Saint Anne, run by the White Fathers, is next to the pool and built over the grotto believed to be the childhood home and birthplace of the Virgin Mary. After our group sang several hymns in the church, we were able to go down into the grotto and venerate the birthplace of Mary.
Rami, Fr. Pat and Judith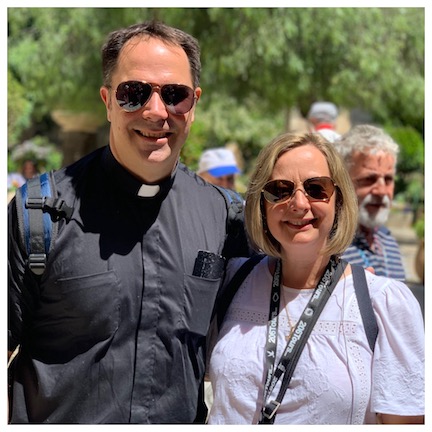 Fr. Donald Calloway and Judith
We left Bethesda and walked the bustling streets of Old Jerusalem, through the Muslim sector, past security and into the Jewish quarter to visit the Western Wall; also known as the Wailing Wall. For the Jewish faith, the Western Wall marks the closest place to venerate the Holy of Holies, the Temple Mount. However, due to the Temple Mount entry restrictions, the Wall is the holiest place where Jews are permitted to pray. Men and women are separated to pray at the Wall, men to the left and women to the right. Men are required to wear a Yarmulke (skullcap) as they approach the Wall. Torah scrolls, prayer books, Yarmulkes and chairs are provided. We each took a few moments for private prayer while touching this holy site.
Our next stop was the Franciscan Monastery of San Salvatore (Saint Savior). This church reminded me of more western churches, particularly those I had visited in Europe. We celebrated an incredible Sunday mass with Msgr. Franco as the main celebrant. His homily was delivered with such power and intensity that it kept me listening for every next word!
Then it was east to the Dead Sea. Here we had a break from our fast-paced itinerary and enjoyed the afternoon relaxing at the beach, floating in the Dead Sea and riding camels! We had a superb lunch in a beach café, which was followed by camel riding. (I had been eagerly waiting for this moment for most of my trip as I was missing riding my horses back home.) Then it was time to don a swimsuit and enter into the water. The Dead Sea is one third salt and so we were told to only float (not swim) and stay in the water for no more than 10 minutes. It was an afternoon filled with lighthearted fun and laughter.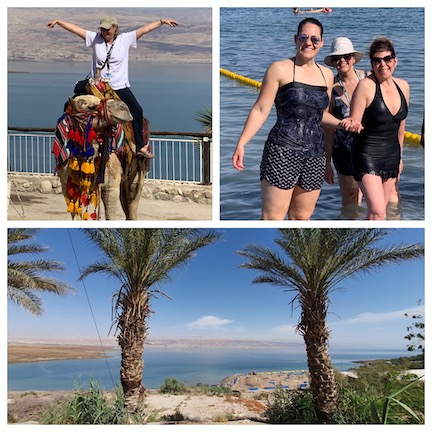 Riding camels and floating in the Dead Sea!
We returned to the hotel to freshen up and have dinner. After dinner, Fr. Donald Calloway gave an incredible and awe-inspiring testimony of his conversion. I had heard his testimony before at various conferences but tonight he was on fire! Several of my friends were not familiar with his story and they sat transfixed. After returning from our pilgrimage, I re-read Fr. Calloway's book, No Turning Back, which is his autobiographical conversion story. I ordered more copies for Weible Columns along with his new book, 10 Wonders of the Rosary. I encourage everyone to buy and read these titles. (Click here to purchase Fr. Calloway's books!) After Fr. Calloway's talk, John Michael Talbot gave a concert. How wonderful it was to hear him play right there in front of me instead of listening to his songs at home or in the car.
Day Seven: Resting while the group visited Cana
Today, I woke up feeling a little lightheaded and decided to relax around the hotel. After breakfast, the group left for Haifa to visit Mount Carmel and then to Cana, where couples renewed their wedding vows inside the Wedding Church.
I took a stroll through Old Jerusalem with some fellow pilgrims who had likewise chosen to relax for the day. We returned to the hotel for lunch with Fr. Calloway who had decided to rest, because he too wasn't feeling well.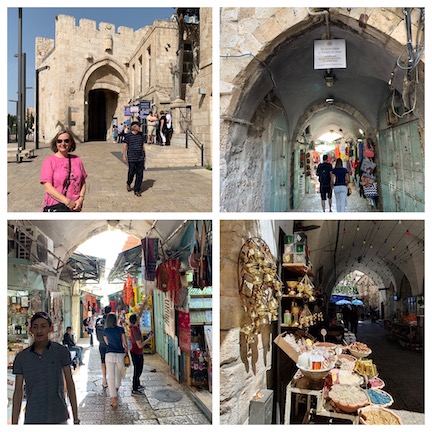 The streets of Old Jerusalem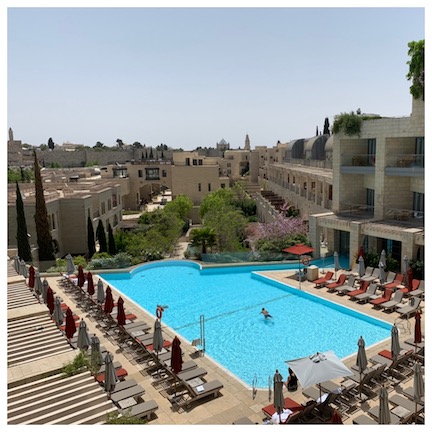 View from my bedroom balcony at the David Citadel Hotel
It was a melancholy supper, as tonight was our last evening together. We shared the remaining few hours with friends we would perhaps not see again for some time. After dinner, Matthew Leonard gave a wonderful presentation on his Next Level Catholic Academy, which was founded to help people grow in their catholic faith and strengthen their spirituality and love of God. What a superb way to end the day!
Day Eight: The Last Day
The day of departure had arrived.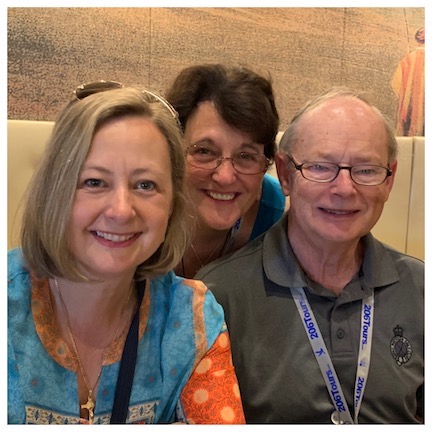 Saying goodbye to Weible Columns friend's Joe and Colleen Widden
This was the day we would return to Tel Aviv and fly home. Pilgrims took different buses based on travel schedules. They visited the city of Old Jaffa, celebrated their last Holy Mass in the Holy Land and visited the Jewish Holocaust Museum. It was then to the airport for various departures. (I stayed at the hotel for an evening transfer to the airport.)
The Return Home
What have I brought home from this pilgrimage? I have returned with a newfound appetite for reading the bible, which has come alive in my hands. A stronger intensity has come into my prayer life, as I am more familiar with Jesus, having walked where He walked and having seen the places where He had His most profound life experiences.
I was blessed to have with me, five close friends on this pilgrimage. These friendships have deepened as we became more spiritually bonded through our shared experiences. One friend was Milanka Lachman and the other four ladies are wonderful women I have traveled with on pilgrimage before: Miki Schultz from Minnesota, Amy Reed and her mom, Della Welch from Oklahoma, and Candice Saltzman and her beautiful friend Kristy, both from Louisiana. The gifts these amazing women brought to my pilgrimage are indescribable. My journey was made so much more complete by sharing it with them. "Thank you girls for saying 'yes' to my invitation and joining me on this spiritual adventure".
In addition to these amazing friends, I made new friends and spent time with very humble, holy and incredibly talented priests. Fr. Peter Dugandzic is a videographer and everyday he made a video of the pilgrimage, interviewing pilgrims and videoing the scenery. Fr. Lawrence Lew is a photographer and took the most amazing photographs, loading them onto Facebook right away so we could see and share them. In addition to his talent, each evening Fr. Lawrence took pilgrims to the Church of the Holy Sepulchre for private prayer and veneration. Fr. Philip Paul Tah, a constant joy to be around, pushed the wheelchair of one of our pilgrims for the entire week! Fr. Pat Keane constantly prayed the rosary while we were all talking and enjoying. What an amazing example he was to all of us. Each priest on our pilgrimage offered an incredible and unique gift to our group.
Visiting the Holy Land has also given me increased reverence in my faith due to the sense of history I discovered through all the sites we visited. I will be eternally grateful for the unbelievable job 206 Tours did in arranging this pilgrimage for us!
In light of this, I have decided to join forces with 206 Tours in planning another Holy Land pilgrimage for 2020. It will be April 13-22 and the cost is $4,622 from New York. Departures will be available from other cities, which may fluctuate the price depending on location. If you have never visited the Holy Land, or not been for a while and are feeling the call to return, consider joining me next year for what I hope will be an equally incredible trip! Contact Sandra, Danielle or Catherine at 206 Tours for details or to book, using the pilgrimage name: Weible pilgrimage to the Holy Land! Telephone: 1-800-206-8687. (A $200 discount is offered to those who sign up before August 01.)
CLICK HERE FOR MORE INFORMATION!

Hope to see you there!
– Judith Weible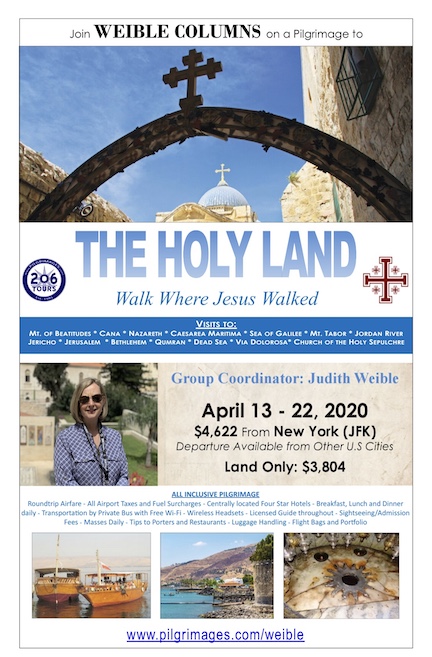 Reflection by Miki Schultz
My pilgrimage to the Holy Land was my second pilgrimage, the first being to Medjugorje. There is no comparison between the two sites as they equally unique and special. However it was the pilgrimage to Medjugorje that led to the pilgrimage to the Holy Land. Let's just say the Lord works in special and mysterious ways and we will save that story for another day!
There are three places that I felt the closest to Jesus Christ but the entire pilgrimage was eye opening and brought the bible to life. The first place was the Garden of Gethsemane. The natural beauty of this place allowed me to imagine it at the time of Jesus without buildings, churches, fences and paths and to purely feel the presence of Jesus. I could close my eyes and hold my breath and feel His love for me. The night before His passion, He prayed on the rock, He wept for my sins and the sins of the whole world. Gethsemane is a beautiful garden and it over looks the city of Jerusalem. I can understand why Jesus chose this place to pray. I felt so close to Jesus in this place.
The second place that I felt the closest to Jesus was on and around the Sea of Galilee. Again, the natural surroundings helped me to relax, find peace, and just be in the presence of God. To reflect on Jesus walking on the waters, calming the storm and teaching His apostles… all right there. This is the place - THE PLACE - that Jesus said, "Follow Me, and I will make you fishers of men" Matthew 4:19. It was such a holy place to experience.
While there are countless experiences and emotions from this most incredible pilgrimage, Golgotha is the third special place I would like to share with you. It is nearly impossible to share the experience of touching the rock that Our Lord and Savior died on. His blood fell onto this place. Can a human being ever really wrap their mind around that? Jesus died a brutal death for your and my salvation so we may have the gift of eternal life through His death and resurrection and I was there, I was in that very place! If you take away the steps, the altar, the candles and the beautiful mosaics, underneath it all, this is the most holy place that Jesus was and I could touch it! My tears fell.
Reflection by Lauren Gullung Simmerman
There are so many wonderful memories to reflect on from my recent trip to the Holy Land, but choosing my favorite was easy. Even though this would be my first trip to Israel, the day I most anticipated was Day 6, with a 3:30 am wake up call for the Via Dolorosa and the Church of the Holy Sepulchre. I think it was a combination of what I knew lay inside the church, celebrating Easter just a week prior and having seen a recent restoration documentary on the church that led to my excitement.
We finished the final stations outside, in the courtyard. Immediately through the large, wooden doors and up the staircase on the right was Calvary. I did not know what to expect but there was a beautiful altar built over the rock of Calvary. You are allowed to spend a few seconds in prayer in the exact spot where Christ hung on the cross. To my surprise, you were allowed to put your hand in the hole where the cross stood. Many emotions were running through me at this point and upon placing my hand in the hole, had a profound personal experience. I felt the deepest pain in the innermost core of my heart, something I have not ever experienced. Fortunately, it was still very early in the morning and not too crowded yet, so I went back downstairs and was able to find a private area in the church for prayer, reflection & crying! We were blessed with being able to celebrate mass outside the Aedicule, and venerate the tomb of Christ inside.
I loved every part of that morning, there were so many chapels inside the church to see and so much to take in, but I will never forget the experience I had on Calvary. I will be forever blessed and grateful for my experience on Saturday, May 4, 2019.
Photographs by:
Judith Weible
206 Tours
Fr. Lawrence Lew
Follow this link to purchase our hard copy June newspaper edition which includes this article in full: https://weiblecolumns.org/shop/medjugorje-newsletter
(Scroll to Weible Columns Monthly Newsletter, last item, June 2019 issue - Holy Land Pilgrimage)